Jun 14, 2019
393
642
Detector(s) used

Fisher F5
Garrett Ace 200
Primary Interest:

Metal Detecting
Seems this is a question that perplexes me a lot.
This little piece is about an inch by an inch, it registered a strong and consistent 63-67 on the Ace 200. I've never found anything in that range that wasn't a ketchup or Swisher Sweets package. It's heavy (specific gravity is ~5.5) and it's almost completely flat. Completely non-magnetic. It sounds kinda like a quarter when you drop it on the counter. Leaves a gray streak - both the exposed metal and the "coating." Found near Atlanta about three inches deep in a public park. Nothing else within a couple of feet of it.
I was sure it was a rock of some kind, but nothing made sense, so I decided to do some sanding on the edges. It revealed the shiny metal you see, which made me start thinking "scrap junk" with oxidation. BUT, it's def not iron, so oxidation doesn't really make sense.
If anyone has a wild guess, I'd appreciate any and all efforts. Thanks!
Sanded it to reveal the exposed metal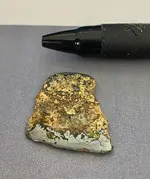 A close-up of the surface taken with my cheap digital microscope. This looks strangely like a map of North America and Europe.