Apr 18, 2014
98
229
Detector(s) used

Garrett Ace 250
Primary Interest:

All Treasure Hunting
Found this today in my mom's yard in Sudlersville MD, the house dates to 1910 but I did find a 1850s State Militia Panel Plate Buckle here before.
Judging by the patina it's likely copper or bronze.
It's torn to shreds but it has this beautiful sun or flower & clover motif in the center; diameter is roughly 1.5" to 1.75"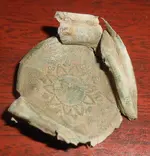 Is it a cap or lid? A military decoration? I'll have to take it to a professional restorer if it's anything of significance.
Thanks, Kyle