Jul 9, 2014
186
395
Detector(s) used

Garrett Ace 400, Garret Carrot, Recently retired Bounty Hunter Quicksilver
Primary Interest:

All Treasure Hunting
Forgot I had these in my pocket. Two finds from yesterday. The tube piece appears to be an early 20th C. lipstick tube.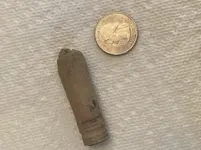 The other is neat. I found it at the base of an old 19th C. rock foundation of a home site. Couldn't find many good targets because the structure appeared to have been burned.
Triangle shaped tin with a 5 point star in the middle. Appears to have been attached, probably nailed to something. Maybe a decorative piece at one time.