Super Moderator
Staff member

90 Minutes yesterday with My nephew at a small park.
sorry My nephew Brought My new camera with him, but
I misunderstood the Ebay add & thought it included a photo Card,
but it didn't. so no up to date photos to show you the surprise changes
& hints of things to come there . But maybe that's for the Better.
birds eye view from the last year or 2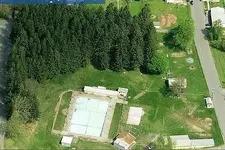 .
the Goodies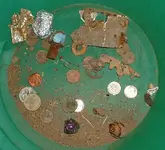 Gas Rebate was $1.19
.65 cents of it was a fresh grass eyeball find
Trash
the burnt aluminum Foil was neatly Folded When I found it.
So I unfolded it as I always do, but unfortunately
(fortunately ?)
what ever was in it dropped into the tall grass, So no idea if it as a sandwich crumb, or ?.
in the pine needles another eyeball find Shocked & Intrigued me as I saw this
Tarnished Silver Charm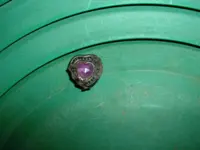 of course when I picked it up

plastic.
after digging a hole where one of the children's toys used to be,
I started pinpointing and the pinpointer kept pointing under a small worm.
so i brushed the worm to the side & the target moved ?
I thought huh ?

& looked closer .
The worm is squirming so I move it again & the signal moves.
so I reach down & pick up the worm
and it immediately turns to Metal

Got me again

other find, looks familiar but ?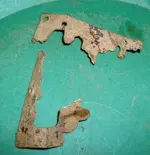 Not quite frame shape, not quite harmonica reed holder .
clock parts maybe

any-who thanks for looking