May 25, 2014
91
141
Detector(s) used

Equinox 800
Tesoro Vaquero
Primary Interest:

Metal Detecting
This "ferrous sphere" was dug up by a homeowner here in East Tennessee, who lives within rock-throwing distance of a small Union Civil War fort. I've spent a day in her yard and have not found anything conclusively of Civil War vintage, but it should be there under the layer of big nails.
Anyway, she let me take it home -- I put it in the electrolysis tank for 4 days, and this is what it looks like now.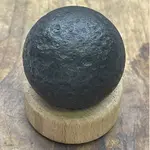 Returning it to her tomorrow and would like to be able to tell her what she has. Here are the specs:
Diameter is generally about 1.310-1.312 inches, but there are areas where it goes down to 1.305 or even a hair less.
At times I think I have seen a mold seam, but it has always been inconclusive and now that it is fully cleaned I am not seeing one.
Weight on a jewelers scale is 146.79 g.
Based on diameter and weight, approximate density is 0.27 lb/in3 or 7.6 g/cm3, give or take. This seems to be on the high end for cast iron, maybe it's steel and therefore not shot?
I note from the link provided by TheCannonballGuy in another thread
CW Artillery Shot Tables
that there are quite a few possibilities for shot in the 1.3" range -- very close to this. Lack of an obvious mold seam seems bad. If it's not cast iron that's obviously very bad. But it was definitely found in the right sort of location and she thought it was about a foot down, so I'd love to hear some expert opinions before I tell her that her CW relic is a ball bearing.
Thanks to all -- Mark