Feb 12, 2018
49
37
Primary Interest:

All Treasure Hunting
Hi
This was copied from members here. I modifed chains and their lentghs to be 1mm from the body of mill. Holes are 5mm in diameter. Motor used is a 1.5HP, 3000 rpm single phase.
It instantly pulverizes rocks into very fine powder. I will be using it for both hard rock and scrap circuit boards.
Here is a photo of mill while being modified in the shop.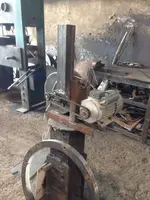 This is a look inside the mill. I also tightened chains for better impact.
Here is how a piece of hematite rock looked after being in the mill for few seconds. It also instantly pulverized hardest quartz.
I will be using this for my rock testing. I have to thank all members here whose designs helped me put this mill together.
Best regards
Kj