Super Moderator
Staff member

Dec 19, 2003
78,285
47,923
🥇 Banner finds
🏆 Honorable Mentions:
Detector(s) used

2 MINELAB EXPLORER SE PROs .......3 Garrett Pro Pointers.... 1 Sovereign XS-2 Pro ....... 2 Sovereign GT's
Primary Interest:

All Treasure Hunting
Many have asked, Sorry it took so long to look & Compose this.
First step look above under FORUM ACTIONS
choose
EDIT PROFILE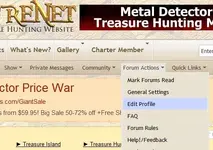 on the LEFT use PAID SUBSCRIPTIONS





Choose Dollar amount on Top choose Click ORDER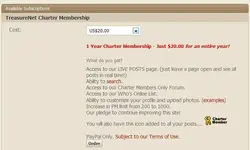 on this page click ORDER USING PAYPAL


follow Directions Below DON'T HAVE PAYPAL ACCOUNT

PAY AS GUEST
For those wanting to pay by check here you go..
The mailing address is:
Forum Foundry, Inc.
Attn:
TreasureNet.com
PO Box 3503
Cedar Park, TX, 78613
Be sure to include your
username and that it is for charter membership here.
Last edited by a moderator: