Dec 24, 2012
1,837
2,398
🏆 Honorable Mentions:
Detector(s) used

Minelab Equnox 800... 2 Garrett Pro Pointers, Lesche, and an 18" mini-T- handle and a 31 inch Samson digging tools
Primary Interest:

Metal Detecting
Been a very bad year detecting,....... having purchased a building to move our Grooming Salon to, from our leased location I have only been out a handful of times this year. Renovations are extensive!!! Thank goodness for the Coinstar at our local Krogers. Scored a 1943 quarter last month, and this 1964 Rosie yesterday!!...

Along with some sticky lincolons and the usual Canadian change.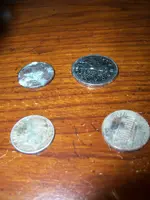 Last edited: