Jun 21, 2013
17
35
Primary Interest:

All Treasure Hunting
Hi!
Ive been a long time lurker, but was hoping to say hi, and see if anyone might be able to help point me in the right direction.
I went to a yard sale today, and saw this in the corner. The house had alot of marble tables and stands and fancier french furniture, but was a smokers house - so EVERYTHING was covered in layers of tar. But there was some nice stuff, mostly a little too antique for my tastes.
I Looked at it the best I could there, but it was pretty grungy and the place was really dark. Its a porcelain painted group of people under a tree and it looks old, because its so detailed its crazy. Like flowers, and small fingers and finely painted hair.
But I need help figuring out how to clean it. I dont want to accidentally wash any of the paint off, but it is nasty. For fifteen dollars, I couldn't not risk it. Any suggestions or tricks for getting off cigar tar and dust? Its about 20" tall and 8" around.
Any ideas of age? Or maker? Theres a funny mark on the bottom in blue. Im not a porcelain person so I have no clue where to begin. Thanks for any help you can give. And thanks for putting up with my Totally random yardsale find of the day!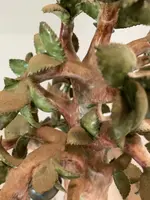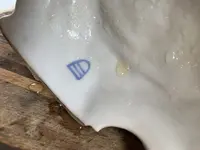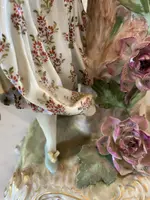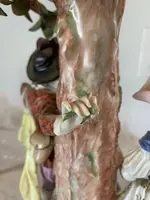 Last edited: