Hi everyone,
We at the Kindle Farm School are fortunate to have our campus located on a property that dates from the 1750's. Our treasure hunting class finds all kinds of neat items, but none so far as neat as this one! Last week while doing some trail building we uncovered this absolutely incredible bayonet. It was in found adjacent to a stream bed and either washed out of the hill side or was dug out of the stream while preparing it for the trail bridge. After comparing it to pictures we found online, it looks like those that were made between the time of the American Revolution and the Civil War. We haven't attempted to clean it yet, but it has the letter U followed by some other lettering on the side. Can anyone give a more specific date range for it? The integrity of the metal is incredible, its still razor sharp and has minimal rust issues. Should we use apple cider vinegar to restore it a bit?
Update: 3/31/16
A couple weeks ago we received and e-mail from Joe Serbaroli, author of European Bayonets of the American Civil War: A Guide to the Imported Bayonets of the Union and Confederacy, Including American-made Bayonets for Foreign Arms. He was able to provide some fantastic new information on our bayonet. While we received great information from members here and through our own research, Mr. Serbaroli offered some corrections and additions.
Our bayonet was manufactured in the city of Liege, in modern day Belgium between 1760 and 1780. Liege was one of the major arms manufacturing centers servicing many European powers and also private merchants. He was able to date the bayonet as being made after 1750 because the mortise (slot) has a 3rd step, as opposed to only 2 steps. The 3rd step or leg was an improvement first noted on French bayonets in the 1750's. A similar example to this Liege-made bayonet was excavated at Fort Ligonier, but has a 2-step mortise typical of the French & Indian War era. This particular bayonet might have been either issued to American colonial troops rather than British regulars during the French and Indian Wars; or it may also have been smuggled in during the American Revolution by a merchant. If it was smuggled in, it would have shipped from Amsterdam or Rotterdam and arrived in Portsmouth, NH as part of the business operations of smugglers like Patriot John Hancock. Once in the colonies, the serial number would have been hand engraved. The D would likely be the company number, and the N 826 would have been the weapon number.
Since our school is situated on a mid-1700's home site first owned by former New Hampshire settlers with a military background, the bayonet probably saw service during the American Revolution. This is not to say it was used in battle, but it would have been in the militia inventory and assigned to a militiaman.
We are currently in the process of building a display case to exhibit the bayonet and other finds from our area.
Also, with the start of 4th Quarter, the Treasure Hunting Class will once again be out in force! We will provide weekly updates of our finds, so stay tuned!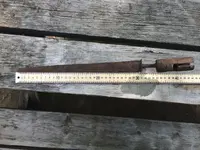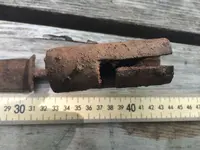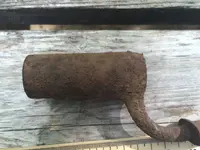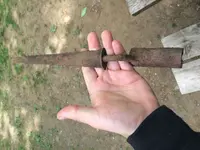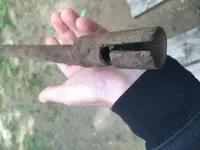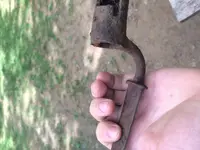 Last edited: