Dec 14, 2017
1,593
3,484
🏆 Honorable Mentions:
Detector(s) used

Nokta Makro Simplex+, Garrett ACE 300, Carrot
Primary Interest:

Metal Detecting
On Christmas Eve we always get together with family and give some gifts and this year my grandpa gave me a Nokta Makro Simplex! I mean, I wasn't too surprised by it because the box looked like the right size and shape for a detector and they did ask me for ideas but I'm soooo excited to use it and thankful it was given to me! I took it out in the snow in a section of yard I pounded in the past, even swinging above the 1"-2" of snow there were a lot of signals I missed with the ACE 300 and from what I've heard it will be quite the upgrade. (I've got a good feeling there's a Spanish silver coming my way in 2021).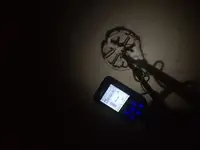 Out digging in the snow.
Oh, and merry Christmas everyone! Don't forget about what it's really about.