May 23, 2015
664
975
Detector(s) used

MineLab CTX 3030, Equinox 800
Primary Interest:

Metal Detecting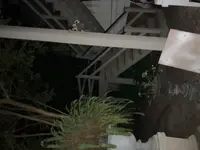 So, picture #1: Shortly after hearing ethereal child's laughter, I get the distinct impression that I'm being stalked/watched from the top of those stairs.
Picture#2: I feel a growing positive and powerful force building directly in front of me, said force rushes towards me and impacts with a palpable, but friendly, pressure directly in the center of my chest. I was actually eased back against the wall behind me on impact, I take this picture.
I apologize for photo orientation, the anomaly was not visible by naked eye.
Thoughts?
Last edited: