Gold Member

I posted on this a couple weeks or so, I was at a colonial site not too far away and this deep signal woke me and the Deus up. Down I supposed 15" or so and on edge was a large, brass disc. With just water cleaning, I realized it was the lid to something, something very old. A 17th century house stood on this site, and these folks had money!
View attachment IMG_1513.jpg
After some research, I determined it was the top to a locking table top tobacco box, late 17th century to first quarter 18th century. Now that will make your day.
Today the nice mail lady showed up and drove this up to my house. I found one for sale across the pond and here it is! It looks like the exact same one! Notice the bottom of the shiny one was hand forged from a solid piece of brass! Enjoy!
View attachment IMG_1509.jpg
View attachment IMG_1510.jpg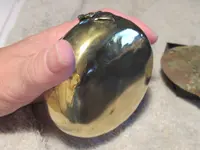 View attachment IMG_1512.jpg