Jun 15, 2010
4,718
6,178
🥇 Banner finds
Detector(s) used

XP Deus
Primary Interest:

All Treasure Hunting
One more sunday hunt near a roman villa site. The field has a slope down to a small creek with a wooded bank. We detected our rows with little success, loads of trash with very little roman stuff. I was thinking the roman path was going down to the creek lead us to the wooded bank, hoping to find some lost stuff and it worked not as expected. Just under the leafes with a strong iron signal was some rund bar sticking out at an angle. It wouldn't come out easily... Must been because the other end in the ground was bigger... Out came an old rifle.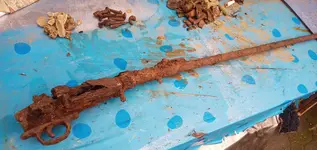 The trash
Buttons, buckle bits, gold gilded whatsit, crucifix with complete wood insert.
Roman finds
More rifle pics
And another picture made at a graveyard on the way. This statue was badly damaged during the heavy fighting in fall/winter 1944
Thanks for looking!
Last edited: