Just about the time I got my new Deus II, I was looking at an old map of my neighborhood and discovered that in 1940, there was a house sitting in what is now my front yard. This surprised me greatly, so I started hunting old photos and found a 1955 aerial photo, with no trace of the house. So it was there sometime before 1940 to get "on the map", but was completely vanished by 1955.
So I worked out the distances from the old map and got a good guess to where the house was, and started hunting. I quickly discovered that my entire front yard is littered with iron.
I don't know when the house was built, but I'm assuming mid to late 1800's. So far I haven't found anything with a date on it, but what little I have found seems to back up those dates.
So I'm starting this thread to post interesting things, mostly for feedback as I try to understand the history of those who were here before I was. Here's some of the stuff I've found so far. Any comments on what they are, or what they are used for, are welcome.
This was identified (thanks to this board!) as a suspender adjuster, pre-1920.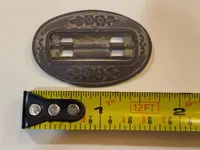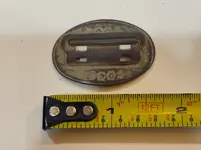 And this one is part of a victorian bed rail attachment.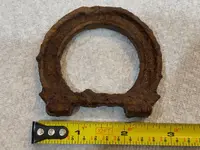 This one is a spoon, obviously. Silver plated, well worn. I haven't found an exact match on the pattern and I can't quite read the maker's mark, but the stuff I find that's close is in the early 1880's. Interestingly, I found this standing vertically in the ground, big end down. It took some digging to extract it.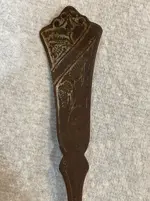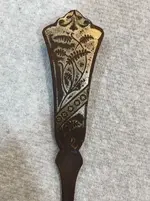 I've also found a few shotgun shell end caps. At first I ignored these thinking they were just trash from a careless modern hunter, but after investigating, these are from around 1900 (Union Metal Cartridge Company, "New Club" style, produced between 1891 and 1911).
And some iron stuff...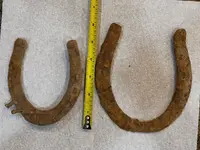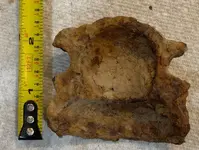 I've found several of those square nuts. They look like they might be blacksmith-made because while the hole diameter is pretty consistent, the size and thickness of the nut itself varies quite a bit. And that thing that looks like a telegraph insulator is a mystery -- iron wouldn't make a very good insulator.
Then there's this partial plate -- quarter inch thick and heavy. Maybe a stove part?
And then there's this thing.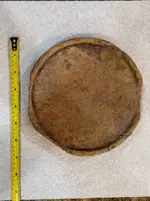 It's about 8" diameter, about an inch thick, with a 1/4" "rim" around one side, totally flat on the other. And it's heavy -- weighing exactly 2 kilograms (4.4 lbs) in its current state. No obvious handle or anything to indicate use.
So there's what I know so far. I will post more as I discover it...