Jul 27, 2014
3,609
8,848
🥇 Banner finds
Detector(s) used

Minelab Excalibur II, Ace 250
Primary Interest:

All Treasure Hunting
Went to a favorite old spot today to dig for bottles. On my way there it looked like a zombie apocalypse had happened as the highway was littered with abandoned cars that had floated off during the flood last night. The highway was pretty much dry but the cars were still abandoned where they had been yesterday, I saw one with the back window smashed out, I assume someone escaped through there. Sorry I didn't take any pics, you can see lots of these same images on the NYC news websites though.
Anyway the flood waters did a great job of uncovering my dig site and I found alot of keepers. The best are depicted below.
The first is a hand-tooled-top 'Hale's Honey of Horehound and Tar' a quack cure from the turn of the century. Note: the anaerobic conditions of the site I dig in are so good that the cork was preserved and some of the Horehound Tar syrup is still perfectly preserved inside. I stabilized the exposed part of the cork with alcohol, mineral oil, and petroleum jelly so it will stay preserved for display. I didn't open the bottle as I like the idea of the air and contents being preserved in there without contamination from our modern world. And heck maybe one day a 120 year-old bottle of Honey of Horehound and Tar will come in handy for something.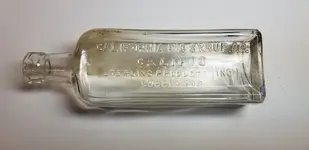 The next is a machine-made cork-top bottle of 'California Fig Syrup Co. - CALIFIG' a quack cure from the 1910's.
The little blue bottle is a poison bottle with 7 vertical indentations, a common poison bottle variety with no embossing of particular interest (no skull or crossbones or the word 'poison') likely once had a paper labele.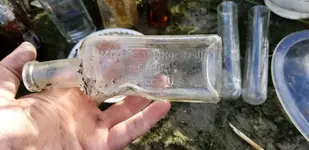 I also found a particularly interesting quack medicine bottle called 'Mayr's Wonderful Remedy' which has a massive factory defect in its construction (as you can see something dented it while it was still cooling and gave it a bizarre shape). Unfortunately this bottle had a big hairline crack in it that split the bottle in two peices when I got it home, I will fix it for display tomorrow. I originally thought the bottle may have been deformed by fire as part of its disposal but upon close inspection it is clearly not the case and there are no other fire-damaged bottles in the dump I'm currently digging in. I imagine someone probably got this one for a discount at a pharmacy. Imagine seeing a bottle this askew on a store shelf.
Also found intact ceramic bowls, glass test tubes (maybe alcohol tubes I read about from prohibition-era), also newspapers - couldn't find the date but maybe reading some of it will give us a clue to the year.