Mar 8, 2014
311
2,283
🥇 Banner finds
Detector(s) used

Bounty Hunter Sharp Shooter, Whites Spectrum XLT, Whites MXT, Fisher CZ-21, Garrett AT Pro, Minelab E-Trac
Primary Interest:

Metal Detecting
Love the odd stuff. Especially when it is so well preserved. This is the lid off a McGill's Fasteners Tin. I did not come across the bottom portion which would have been larger (deeper).
Patent dates of 1875 and 1883, so it has some age to it.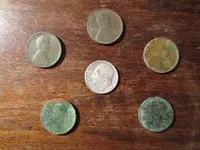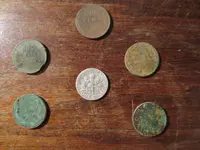 Some coins to boot.
Today's finds...
McGill's Fasteners Tin (Lid)
1947-D Silver Rosie
(5) Wheatback cents...1911, 1923, 1944-D, and two that prefer to keep their age a secret.
PBS