Jul 8, 2007
3,679
4,072
🏆 Honorable Mentions:
Detector(s) used

Extended Sensory Perception, L-rod, Y-rod, pendulum, angle rods, wand.
White's MXT, Garrett Ultra GTA 500, AT Gold, SCUBA Detector Pro Headhunter, Tesoro Sidewinder, Stingray, 2 box-TF900, Fisher TW-6
Primary Interest:

All Treasure Hunting
Last saturday this newly engaged couple were out with some friends tossing and batting a softball around. The lady had a ball glove on and when she took the glove off and tossed it to her friend her ring was not on her hand. She rewound her mind trying to think if she had the ring on or not when she put the glove on.
So for about 10 hrs looking at all the places on the field she was and with friends with a friends metal detector they still couldn't locate the ring.
I answered her call and arrived today on site to discuss the details. Setting up the MXT I searched the smaller areas she remembers being. Then I went to the outfield where she remembered taking the glove off and on between fielding the fly/ground balls. Quite a bit of area to cover and grid but thanks to my bigfoot coil I was able to cover the area quickly and after an hour and a half I went towards left field and got a +22 and overload signal and thought well this was a different event that hadn't happened with the MXT so I garrett carrot'ed the pinpoint and peeking out below the grass and dirt this beautiful ring revealed itself!
Now that's a home run to remember!
Jon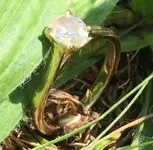 Last edited: