Sep 9, 2012
3,776
4,540
Primary Interest:

Other
I have started this thread to aid in the discussion of any topic that concerns the K.G.C. and the O.A.K. that anyone wants to discuss for any reason. I would only ask that we all try and follow tnet rules and regulations and remain on a subject until we reach a conclusion or conclusions on that subject(s) of discussion. One step at a time in the right direction, no insults, no B.S.
Thanks for your time and participation in advance


L.C. Baker
I will start the discussion with this widely accepted fact:
The first confirmed bank robbery involving Jesse James occurred on December 7, 1869, at the Daviess County Savings Association in Gallatin Missouri.

and I would add these conclusions:
The first bank Jesse James robbed was a bank in his home state of Missouri
1) Jesse did not have any concerns about living in Missouri as a free man after Dec. 9th, 1869 because from that day forward he was considered an outlaw in his home state, and a fugitive from justice in all states.
Question: What or who do you think led Jesse James to Gallatin Mo. that day, a robbery or other motive (s)?
Another widely accepted fact: The Gallatin bank acted as a branch office for a larger bank in Chillicothe operated by another of Clingan's brothers-in-law, Judge James F. McFerran. As most of the money transactions were made in Chillicothe, there was little cash on hand at the time of the robbery. Only a few dollars were involved in the crime that cost Sheets his life.
A questionable eyewitness account from an 89-year-old man who claimed to be a witness when he was 16.
Eye-Witness Account of 1869 Bank Robbery? Daviess County Historical Society
another account:
Gallatin, Missouri Bank Robbery
another account:
https://en.wikipedia.org/wiki/Jesse_James
Do you believe that Jesse James really made a split second decision as the robbery was taking place, that the banker at Gallatin that day just happened to be Samual P. Cox the man that had supposedly killed Bloody Bill Anderson? Was it really just a case of poor planning and mistaken identity by the James boys or something entirely different taking place that day in 1869??
Look-Alikes

?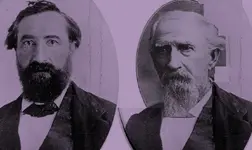 Last edited: