Feb 6, 2014
3,685
5,309
🥇 Banner finds
Detector(s) used

CTX-3030, Deus XP HF Round/Elliptical, White's TRX Pinpointer
Primary Interest:

Relic Hunting
Hey guys,
Headed back out to an old colonial permission, turned honey hole recently with Stef45. Weather hasn't been great, but we did manage a get in a few hours before the rain ran us off. Every time I walk away from hunting here, I start researching new sites as we assuming it must be pounded out. Countless hours gridding with both the CTX and Deus have almost certainly cleared the good stuff...not quite. Instead of walking in grids, I decided to change the angle of the coil by walking in a concentric circle on the main iron patch. Today's weapon of choice was the mighty XP Deus and my first target was the mythical whisper signal. 99% of the time these top of the right horseshoe targets are deep iron (OutdoorAdv can probably speak better to this), but every now and then its a deep non-ferrous target. Dug the plug, but still no target...with all the iron there is no chance of a clean pin point so I widened the plug and dug a bit deeper. At the point were the sandy top soil met the hard clay (12-13 inches) my pin pointer finally rang out. Never thought I'd see one of these in person...1700s Luckenbooth trade silver brooch!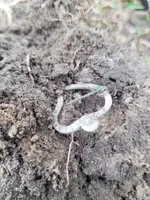 A bit of history on these- A Luckenbooth brooch is a Scottish heart-shaped brooch. Luckenbooth is traditionally given to a bride by her groom on her wedding day as a symbol of love (heart) and loyalty (crown). They were also attached to either the bedclothes or the clothing of a newborn child as it was believed to ease child birth and insure good breast milk. These brooches often have a crown above one heart, or two intertwined hearts with Scottish motifs like the St. Andrew's Cross or the thistle. The crown is designed after that of Mary Queen of Scots. She gave a Luckenbooth brooch to her betroth decorated with her monogram and a thistle. The thistle is the national emblem of Scotland along with the Latin motto, Nemo me impune Laecessit ("No one provokes me with impunity"). Silver was the usual material, although gold heart brooches were made for wealthy people. Some brooches were engraved with initials, dates or mottoes. Inexpensive glass paste "gems" or stones (described in ancient advertisements as Cairngorm stones) were sometimes used on silver brooches. Its name is believed to have come from the "Locked Booths" where these brooches were sold on The Royal Mile in Edinburgh. Locked booths were shops in Edinburgh from St Giles to Canon gate which became the city's first Jewellery shops in the 16th century (luckenbooth was a Scots word for a lockable stall or workshop). They were demolished in 1817.

By the mid 18th century luckenbooth tokens also featured heavily as trade silver items to the indigenous peoples of North America, particularly the Six Nations and Iroquois Indians. As a result, Iroquois created their own "Iroquois brooch" and luckenbooth became a common decorative symbol in 18th and early 19th century native clothing.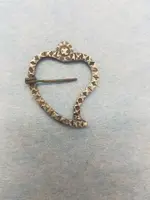 This silver brooch is without a doubt my favorite civilian relic recovered to date.
Not far from the brooch, I got another whisper target- at about the same depth at the clay layer. 1781 1/2 Real Spanish (this time with the CTX)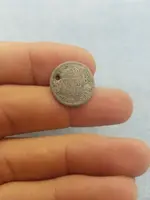 As if these 2 silver weren't enough I also checked the 1857 flying eagle cent off the bucket list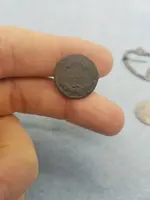 Also pulled a crusty 1873 IHP
As far as other relics go, recovered a few nice flat buttons- 1 with silver wash and another with a flower design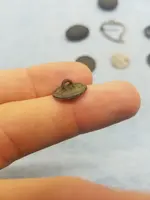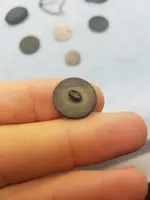 Few other unmarked flats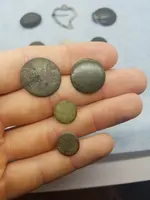 Also dug a pewter spoon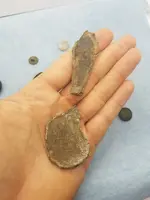 Pair of 18th century leather bosses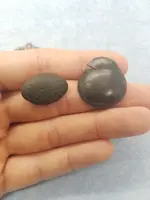 Along the perimeter of the property I started digging a ton of camp lead- also these tent rivets (one still has the leather intact)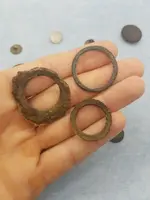 This one is a bit of a mystery- maybe early stained glass fragment (green class with lead in back)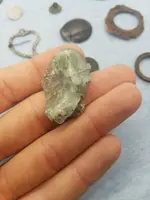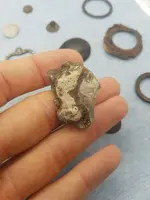 Also a nice iron buckle destined for the electrolysis tank
Suspect this button is turn of the century- cloth covered with iron back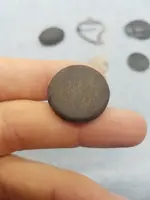 All in all another hunt for the record books for me- trade silver brooch, Spanish, and a Flying Eagle cent has set the bar high for the rest of 2017. As always thanks for looking and good luck out there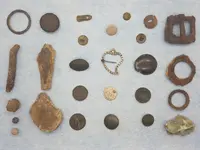 Last edited: