Jan 31, 2015
3,753
9,038
🥇 Banner finds
Detector(s) used

Fisher F75
Primary Interest:

Metal Detecting
Here we are at the beginning of 2017, starting from scratch, nothing in the till. So how did the first hunt of the new year turn out?
As amazing and unpredictable as the finds of 2016!
First coin of the year was an 1893 V-nickel, very toasty but still readable. Next coin was silver, at least 35%, in the form of a 1943 P War nickel. After that came two wheats, a 1950 followed by a 1909. These first four targets were dug in an area of high EMI, so I had the sensitivity down to 70, still plenty of depth to get the V and the 1909. There was also a child's junk ring in the hole with the V-nickel and bears the raised letters "HONGKONG" inside.
I moved away from the EMI region and raised the sensitivity back up to 92 and dug a few square nails and then got another signal with a VDI over 90. Down about 6 to 7 inches I swiped away enough soil to reveal a golden edge. Got out the cell phone and recorded the extraction of an 1800s gold ring; it tests positive for at least 14K. The engraved onyx appears to have the bearers initials in reverse order as if the ring could also have been used as a stamp with ink.
Easy to have firsts on the first hunt of the year. Here in Baltimore it was cold and rainy, so I lasted three hours and then headed to the truck to get dry and check out that ring. BTW, this is the same park I hunted all of December.
Thx for checking out the pix!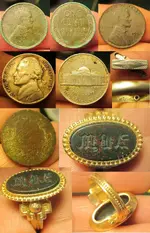 Here's link to video of ring find
Last edited: