Sep 22, 2006
2,571
3,241
🏆 Honorable Mentions:
Detector(s) used

Garretts only
Primary Interest:

All Treasure Hunting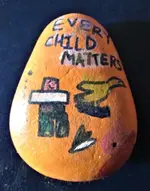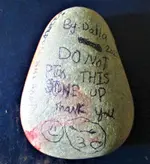 Long time since Navy Davy and I have gotten out for a swing. Today changed that as we hit a local park on a day that was dark, dank and windy not too mention the herds of mobile manure makers prancing through the park. Wasn't long before the pennies were popping as ND blew his nose and I blew my knees. Had to stop way too soon as Marie and I going to a dinner and dance tonight. Mind you it will be much more dinner than dance at least till I get some "lubrication." Seemed like every dog had to have a sniff of ND as I was ignored. Such is life. Each of us ended up with about 27 coins with ND getting the better of the lot having scoffed a few loonies and a twoonie. One none penny find for this bouy. Got a stone that said it all until I was home and turned it over. Guess next visit to the park I'll have to replace it!