Jul 13, 2005
4,007
394
Detector(s) used

**Tesoro Tiger Shark** Tesoro Silver Umax** Minelab Sov Gt w/WOT coil** Whites 6000Di Pro SL**
Primary Interest:

All Treasure Hunting
It was a beautiful day to be in the water!
Got in the water about 9:30 a.m. and hunted til 5 p.m.
Finds were pretty sparse, but it was an enjoyable day.
Finds straight from the pouch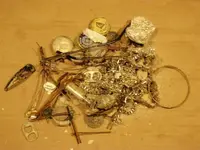 11 coins = $1.29
Found this in the dry sand on the way out. Had me going for a minute. I thought it was a tangled mess of silver necklaces, but it looks like it was attached to a piece of clothing.
There's always next week.