I got in about 2 1/2 hours at my favorite beach this morning and I was initially dismayed at how sanded-in it has become. I scouted for any low spots or cuts, and found one small area. Fortunately it had plenty of targets, so there was more than enough digging to do.
Most of the targets were coins from the 1970's through the 1990's, as well as usual batch of fishing weights. I did, however, find a bit of silver. As usual, it was all very toasted, and took a bit of electrolysis to clean up.
Here are all of the day's finds: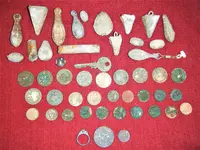 I found one dime, which just barely qualified as silver! (A 1964 Roosevelt.)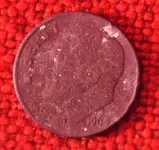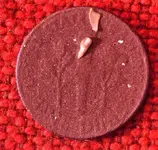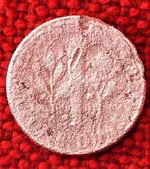 I found a neat little silver ring marked .925 in the band. There was a maker's mark as well, but I couldn't quite make it out. It doesn't show well in the picture below, but there are several tiny sparkly stones adorning the top of the ring.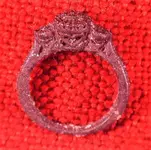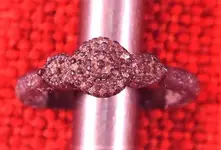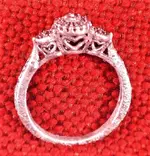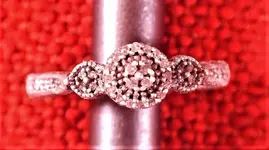 My favorite find of the day, though, was a silver half dollar. It was so toasted that I didn't know what type it was until after electrolysis. It was a 1944 Walking Liberty Half! (This is my first!!!) I know the sea wasn't kind to her, but she's still beautiful to me!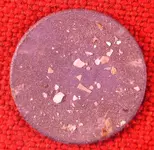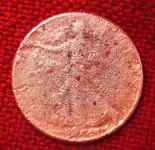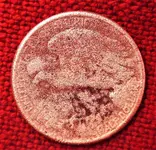 Thanks, as always, for taking time to look at my post. I know it doesn't compare to the some of the incredible coins and relics the rest of you have been posting recently, but it was fun to get out again and I just felt like sharing my happy surprise. May your next hunt bring you joy!