Feb 2, 2019
1,404
2,593
Primary Interest:

Other
I've not posted this one before. It was found in 2010 on top of a waste pile of loam and gravels staged beside a cranberry bog. It could have been laying there for 2 centuries. It has some staining on it, indicating that it may have been scooped out of the feeder brook reconstructed by the original farmers to form the bog.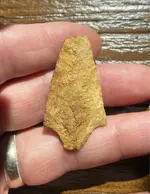 My mind went to this one following a post from NC showing a series of Morrow Mountain Type II points that are very similar in design and archeological period to our Stark Points (also of the Neville Cluster) here in New England.
This Neville Variant, had it been found in the coastal states SOUTH of New England, would have been immediately identified as a Morrow Mountain (which is dated in the Middle Archaic Period). This point (The Neville Variant) is also dated (in New England) in the MIDDLE Archaic Period.
Here's another look at the rounded stem: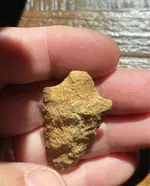 Last edited: