Apr 17, 2009
2,452
5,667
🥇 Banner finds
Detector(s) used

T-2-SE
Primary Interest:

All Treasure Hunting
I found this sword yesterday and was hoping to confirm it being a U.S cavalry .
I found it on a rock outcrop overlooking the river on my property . it was only in the ground 2'' deep and overloaded my machine with an iron tone.
I took these pic with my phone as soon as I figured out what it was.
I 'm seeking advice on how to clean or preserve it.
keep in mind it is stuck in the scabbard and soaking may not work because it can't be rinsed properly I have it setting in the area of the woodstove in an effort to remove all the moisture.
dig those large iron signals guys , the next one may be something good..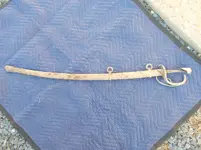 Last edited: