Jun 14, 2019
396
658
Detector(s) used

Fisher F5
Garrett Ace 200
Primary Interest:

Metal Detecting
I've had precious little time to hunt the last few weeks because of my motor rebuild, but I've snagged a few things that I really like. My first lock, an old file that I cleaned up and will be putting into service, my THIRD Sardines from Maine tin from the late 60's (yard find - one of the construction workers *really* liked sardines), a primitive hammer (thanks to the forum for ID!), a UL-approved whatsit from a new homesite I found, along with a few coins, and yet another magnetic, heavy, UIO (Unidentified Iron Object).
And one of my favorites, which was my very first find at a homesite from the early 1900's, this fireplace ash-door-thingie (I think).
And here's the "lot." Thanks for looking! And if you're in the ATL, I have a couple neat places to explore near my house in Stone Mountain. PM me if you're interested.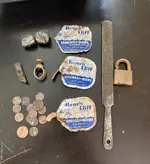 OH! And lest I forget, the Fairlane that's received a new top end. She is going up for sale, so PM me if it strikes your fancy.