Super Moderator
Staff member

the tale: no Idea Where the Info originally came From.

The Dennis Atkins Treasure​
Not to far north of Kermit on route 52, on the east bank of the Tug Fort River, is a buried treasure of approximately $200,000 in gold coins. Dennis Atkins supposedly buried the cache near the toll bridge in the 1900's.

The Clipping on Dennis :

The Key West citizen. [volume]
(Key West, Fla.), 30 Sept. 1941.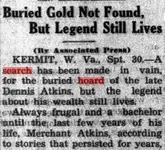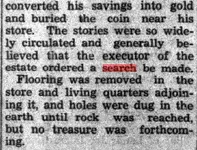 https://chroniclingamerica.loc.gov/...xt=&andtext=&dateFilterType=yearRange&page=24
Last edited: