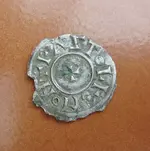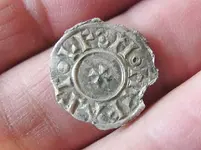 I have not been posting much lately, this is down to searching for new land and the finds I have been making have been very sparse. But I think I might have found a decent area at last.
High on my wish list of finds has been a Saxon Penny and on Saturday I finally found one, these coins are struck on a large flan, usually about 20mm and usually cracked or damaged in some way...as is this one, although it's at the better end with all the legend. The coin is that of Eadgar, or sometimes spelled Edgar.
All I can tell you about the coin at this time is the date of this ruler which is 959-975. The reverse description of this coin is not in any of my books, and I have not found it online, so I am waiting on the UKFD for the reverse variant, which I will update later when I find out.
Here is a little bit of information one Eadgar...
Edgar the Peaceful
, or
Edgar I
(
Old English
:
Ēadgār
; c. In 963 he reputedly killed his rival in love,
Earl Æthelwald
, near present-day
Longparish
, Hampshire.. Edgar was crowned at
Bath
and anointed with his wife Ælfthryth, setting a precedent for a coronation of a queen in England itself.. Edgar died on 8 July 975 at
Winchester
,[SUP]
[why?]
[/SUP] and was buried at
Glastonbury Abbey
UPDATED ID...Eadgar penny, pre-reform, circumscription cross type, BMC III. MINT UNKNOWN..
+ EADGAR REX
+ FASTOLF MON
I hope the pictures load, this is my first time on this new format..
SS
Last edited by a moderator: