Gold Member

I went everywhere and dug everywhere over the weekend. First couple spots produced a wad of colonial items. I still have to get pics of those.
The last spot of the day yesterday was an unknown in the woods. Besides getting a tick, the area is rich in history along a major river. I had fond a place to access the river (it was kinda creepy back there), and dug the usual garbage and some nice 18th and 19th century buttons. I did not find any musket balls but believe I found an old homestead.
I had not intended on staying long due to the trash. I had used my Cibola. It hadn't been out playing much lately. I got a huge dig me I'm trash signal and out popped this large dandy button with a shank. I never remember to bring a camera with me, basically I don't want to ruin a $400 camera, so no in situ pics, basically I never get around to that and flip the thing over and see something on it, but it's caked in wet mud.
It gets thrown in the pouch and this morning I dig it and the other stuff out. And fall over when the mud starts coming off!
It's a George Washington Inaugural button, and if I wanted to dig one, this is the one I would have preferred to dig!
It's the "GW with linked states". Used for the 1789 inauguration, it is/was about the last thing on my bucket list! All the detail and the shank are there. The soil is very, very mild there.
Yowsers! I'll have to clean up the other stuff later tonight, one button has an anchor and eagle on it.
Wish I could call in mentally ill and go back today, but have to calm down and go to work. I'll try some renaissance wax on it to see if the detail can me made more visible, but it's all there!
View attachment IMG_1001.jpg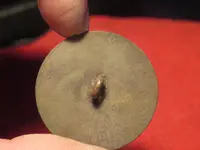 Can you spell "excited"?
Here it is cleaned a little more with some wax.
View attachment IMG_1003.jpg
I need to take better pics when I'm no so hyped!
Last edited: