Hero Member

Jan 27, 2015
935
3,203
🏆 Honorable Mentions:
Detector(s) used

Minelab Equinox 800
XP Deus 2
Primary Interest:

Metal Detecting
Hi everyone. I was invited by the pastor of a local church to hunt their property recently. The church appears on our area's 1850's map but was built in the early 1800's apparently, with occupancy on the site in the 1700's. However, the church has also been renovated and worse than that it hosts an annual rummage sale / festival, so anything old is layered under a bunch of new odds-and-ends - as you'll see when I describe my finds.
Nevertheless I'm very excited about the initial finds and I think that it's a great site to return to for the rest of 2021.
I met with the pastor and he's a fan of Oak Island and is familiar with metal detecting, so I'm working with a "friendly" here - which is always nice.
The first find (column A, upper left) is the best find of the day by far. It's the embossing seal from when the church was called the "First Presbyterian Church" of this town in New Jersey. It's the kind of heavy-duty seal that notaries would use to raise / emboss the image on paper (so it's backwards when you look at it, until you impress the seal - or mirror the image). The church was initially called First Presby in 1917, but changed names in the 1960's, so we know this seal is 60+ years old.
The Pastor and his office manager were super excited about this find, and they were looking back through old church records to try to find an actual paper that would have been embossed with this seal. It'll be pretty cool to reunite them after all that time.
Also in column A is a pump organ reed (bottom) and an unknown brass item with some interesting symbols on it. I see (left-to-right): a bird with a diamond on its chest; two crossed arrows; a diamond shape; two little triangles; teeth or a mouth

; a worm with a face; and an eye.
Ok symbologists:
does any of that mean anything to you?
Column B is rummage sale stuff, I think: a game piece from Scene It; USMC badge; Italia medal; and a thing from the corner of a fancy book cover (maybe).
Column C at the bottom is a nice Treble Gilt London flat button with shank. Anyone know what the moon-shaped thing is at the top? It doesn't seem flat enough to be a heel- or toe-tap.
As for the coins, a 1919 Wheatie tells me there will be old coins, and the 1935 Buffalo Nickel is in really nice shape (considering most I find are much worse).
Those coins - and the other finds that ring up like silver coins (the seal rang up just like a silver half-dollar) - have me thinking there should be good stuff at this location. It's just going to take time to find it!
I'll be giving the seal and the flat button to the Pastor at least; I don't think he'll want any of the rest of it but I'll certainly offer.
Thanks for looking.
Bonus Find:
I hunted a spot in town earlier this week and didn't find much at all so I didn't post, but one item was cool: a Certified Makers Number tag from an early New Jersey license plate. This Makers tag number - 2236 - is earlier than a 7000's series that appeared on a 1909 license plate, so I have to believe that this tag is pre-1909. If anyone knows more about these tags and can share info, I'd appreciate it. The homeowner of where I found it is a car guy so I want to give it - and as much background info as I can find - to him.
- Brian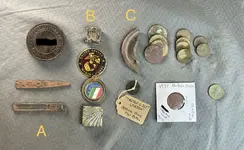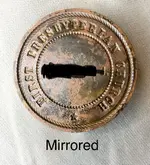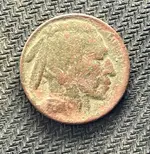 Bonus Find: