Hero Member

Jan 27, 2015
799
2,591
🏆 Honorable Mentions:
Detector(s) used

Minelab Equinox 800
XP Deus
Primary Interest:

Metal Detecting
Hi everyone. After reading all the great comments about the Deus HF coils I decided to invest in the 9x5 elliptical one. Now I've got the 11" X35 for general historic site use (farm fields, wide open historic home properties) and the HF elliptical for heavier iron areas and tighter spaces. (Plus the Equinox with stock 11" coil for the beach and parks). I feel fully kitted out.
The new HF coil came Wednesday but I couldn't get out for an initial hunt until after work yesterday. I only had 1-hour but it was a very productive hunt (More on that in a minute). I took the coil back to a house I've written about before:
http://www.treasurenet.com/forums/today-s-finds/653661-another-first-1857-flying-eagle-cent.html
http://www.treasurenet.com/forums/e...h-detecting-deeper-targets-2.html#post6745587
(the video I posted was made at this house).
http://www.treasurenet.com/forums/today-s-finds/654284-ford-model-t-axle-cap-i-think.html
Having used both the Equinox and the Deus 11" x35 at this location I feel like I can offer some good initial impressions of the HF elliptical, and they're all very positive:
1.
The HF 9x5 elliptical is quiet.
And what I mean by that is:
> it doesn't seem to have the ground noise that the 11" x35 had. I run the discrimination all the way down at -6.4 by default, but that was causing noise with the x35. Not so much with the HF
> the HF elliptical was producing more "crisp" target signals, more precise. With the 11" x35 I think I was hearing a lot of chatter in dense iron areas because there are more targets under the coil at one time. The 9x5 HF has less under the coil so it's totally logical that the target indications will be more crisp. I like that, because many of my sites are machine-gun iron sites.
2.
The HF 9x5 wasn't suffering from EMI
. I'll include a picture of the house below; in it above the red barn you'll see an electrical wire running from the street pole to the house. Both the Equinox and the 11" x35 couldn't handle that electrical wire's EMI very well (despite frequency shifts), but he 9x5 HF had no problems at all. (see Target D below)
3.
the HF 9x5 helped with pinpointing, and avoiding larger iron (mostly)
. With the 11" x35 I was digging A LOT of iron that had a halo that sounded good, and i think it was because I struggle to pinpoint with the X35 in dense target areas (multiple targets near each other). The 9x5 HF helped a lot with this. (see target E below).
4.
I don't think I lost depth (compared to x35 11")
I already have developed the opinion that the Deus (with either coil) goes deeper than the Equinox. As one target I discuss below demonstrates I can pull deep targets with the 9x5 HF just like the 11" x35.
I know it was only a 1-hour hunt, but I'm already very impressed and think this coil will be excellent. Thanks to all of you for your commentary on the various coils.
Now for the finds:
A. The crotal bell was actually the last find of the day, and frankly I think any of my detectors would have found it since it was 3" down. I must have just missed it in past visits. It's a nice late 1700's / early 1800's intact bell with no maker's mark. Love it!
B. The first target I dug was the horseshoe. You know how it is: new coil, dig the first thing that beeps. Nothing special there (but a nice shoe).
C. The iron buckles and rings were picked out from other "undesirable" iron like nails, so I was happy about those.
D. This is where it gets interesting: these two targets (aluminum gold-colored heart and a wheat penny) were pulled from below the power line, where the EMI would have kept away other detectors. (see point #2 above)
E. These two targets - a piece of lead that looks like a butterfly, and a .22 casing are interesting because
- the lead was deep, like 8" deep. Pretty good. Gave a nice soft 90's signal that was easily pinpointed.
- the .22 casing was with 2 iron nails, yet I still heard it.
Both these targets prove point #3 above.
F. This thing was just cool. It's an "AUTOMATIC" Eagle Pencil Company pencil knife, for sharpening pencils. This style was from the 1883 patent and pre-dates 1910 (when the design changed). If you're interested:
The Blade Blog: Eagle Pencil Co. USA - Gold Plated AUTOMATIC Pencil Gravity Knife
I included the nickel because it shows I missed a coin in past hunts, and I included the giant chunk of anthracite coal just because it's a huge hunk of coal (found with the detector - gave a soft 90's signal).
So, I hope someone benefits from this write up. I absolutely cannot wait to keep using the new HF coil!
- Brian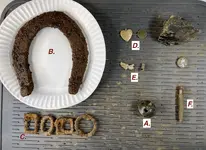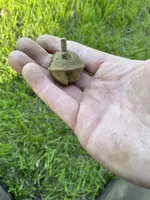 The house: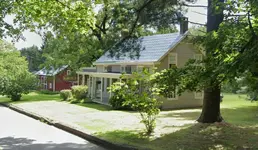 Last edited: