Hello all,,,
As some of you may rembeber. After Punky passed on, at the end of July, we ended up getting a new dog from CraigsList...
I took this first shot not too long after we got him...
Well,,, guess what happened...

I'm sure you guessed it,, We got puppies...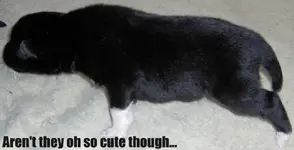 What am I to do...

Com'n guys and help a fellow Th'er out. They were born on November 12th and should be wean right about Christmas eve, or before...
If your anywhere ( within 3000 miles ) close to the westside of Indy, come and get your free Christmas puppy. You know it would make a great Christmas gift...



The proud pappa is part Labrador Retriever & supposedly Wolf. approx: 90lbs
[br][br]
The proud momma is part Rottweiler & Sheperd. approx: 75lbs
[br][br]
They're going to be some big dogs, if they're anything like her last litter...
[br][br]
I'm trying to get rid of them for my neighbors.

If your interested, which I know you are

, you can email me and I'll give a phone # and the address so you can come and take a few of them...
We got Odie, the proud pappa from Craigslist so I'm going to try and give Craigslist a few of them back...

Update: Due to the ad I placed Craigslist today I may have a home for all the puppies,,, so I have placed the ad on hold ( pending pickup ). I thank you all for your replies...
Have a great day, Leon...