Apr 13, 2016
14,332
32,139
🥇 Banner finds
🏆 Honorable Mentions:
Detector(s) used

EQUINOX 800
Primary Interest:

Metal Detecting
<<<<<<<<<GOLD RING RETURN>>>>>>>>>>>
I said "I'm the best why do you ask?" He said " I lost my wedding ring 16 years ago and I have an idea about where it is". I said, "If you know about where it is I'll find. So I go over to his house and unbeknownst to me he was having a crawfish boil and he's telling everybody I got the best metal detector guy here he's gonna find my ring. It was to say the pressure was on. He knew about 12 x 12 where the ring should be. Mr Clyde was talking the whole time about his cancer and I think the whole time PLEASE GOD let me find this one and boy he can he talk being a coonass myself I'm use to hearing long drawn out stories from my elders. Lol All of a sudden I get a clear signal about half and hour in I dig down and I said "Is this it?" and his face was priceless he started crying. Made me feel good and the whole family was cheering. He offered me $100 and I told him there's no way I could except that but I would love to take a picture with him. But he wouldn't let they leave empty-handed he asked me," Do you like old bottles?" I said "sure" and he gave me a suitcase filled with old bottles from the late 1800s to the early 1900s nothing to write home about but so special to me because they were obviously special to him he hand wrap everyone of them in bubble wrap and then doing like we do he gave me 10lbs of crawfish [emoji3081]
He also knows of a lot of old ground and stories about them all he he said it would be his pleasure of showing me where these are and getting me some permissions needless to say it was a beautiful day.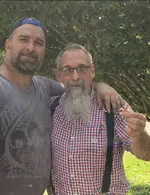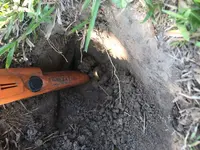 Last edited: