Apr 13, 2016
14,332
32,126
🥇 Banner finds
🏆 Honorable Mentions:
Detector(s) used

EQUINOX 800
Primary Interest:

Metal Detecting
The large grape shot is very crude so I'm not sure if it's colonial and just was poorly made or what the thecannanballgiy has been cent pictures we'll see. I also found a British King George padlock which was the 2nd one last week. I've been chasing deep iron lately which is really paying off I was told that the French a pound cannon ball OK I found was very rare to find in the United States. These were all found between 10 and 12 inches down in the square nail pit. late-1700s/early-1800s "Smokehouse style" padlock... with the GR (Georgius Rex) and British Royal Crown stamping marks style on the brass keyhole "dustcover." BEFORE LOCK 1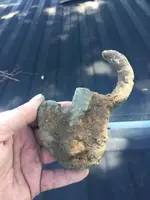 AFTER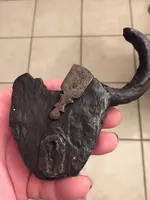 Lock #2 Before (I tried myself no good lol)
Lock #2 After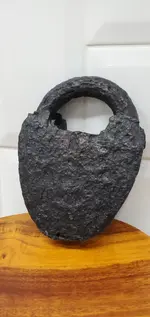 And the best part is the brass lock plate still works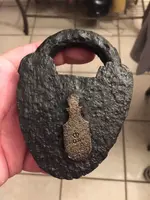 And last but not least my Canister shot or large grape shot not sure yet.
Before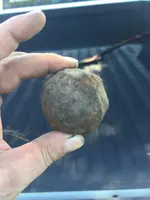 AFTER We noticed there was a lot of holes which was from pouring incorrectly and there's a seam around it now was a colonial which would've been made this crudely or is it later and they just did a bad job
I'd like to thank my friend Glenn who has taught me so much about electrolysis and he takes it to a whole nother level with heat between 850 and 900°F to really dry out that grape shot. He did a amazing job.[emoji1317]
Last edited: