Gold Member

Well, it's finally clearing up outside. Maybe digging later this week but I did get out a few times over the weekend. One site was a long forgotten colonial home. It has been hit before, but there are still targets in the ground, especially around the iron.
Here's this week's take.
Since it was so HUGE, I had to keep the oyster shell, we found a few like these.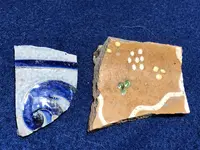 Piece of nice slipware (on red body) with a piece of Westerwald.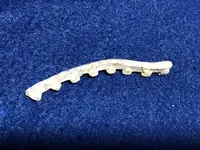 This is a lead "sow". The elongated strip of lead remaining where buckshot or musket balls were cast from it! My first one ever!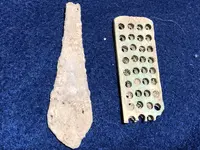 Back piece to a bristle brush and part of a pewter spoon handle.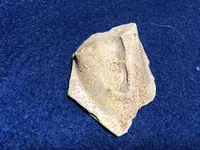 Just part of where a Bellarmine handle would have attached to the body of the jug, but look at the fingerprints!
Colonial child's whizzer toy! My first one ever!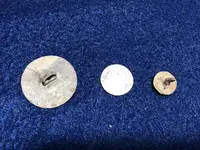 Large tombac button with shank, 1/2 reale and brass stud for a wooden box.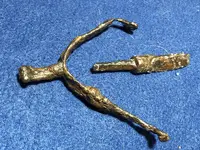 Late 17th to early 18th century spur in iron and part of a knife.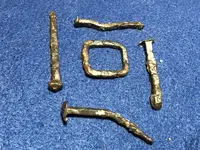 Nice forged iron buckle and some rose head nails.