Mama said.
Smells like Horse Apples.
Looks like Horse Apples.
It's gonna taste like Horse Apples.

The whole thing.
1st,
Going to France and the carving in a wall at the Templar prison in Domme, France.
2nd,
Detecting and finding a Pectoral Templar Cross on Oak Island.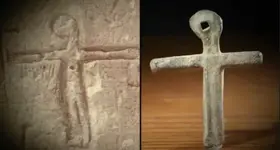 Pectoral Templar Cross,

Deja Vu

, Roman Sword

Like the ebay reproduction Roman Sword they presented.

It seems that at the Chateau in Domme where Templars were imprisoned in 1307.

You can buy


A Replica of the Templar graffiti

engraved on stone at the Templar Museum's Gift Shop.

GIFT SHOP REPLICA SHOWN BELOW.
Info and reproduction photo, sourced from William Henry, below.
JESUS? MAGIC WAND AND THE TEMPLAR ENGRAVINGS AT DOMME | William Henry
For those who watched, please take the poll.
Last edited: