Nov 22, 2013
9,180
16,377
🥇 Banner finds
🏆 Honorable Mentions:
Detector(s) used

Garrett AT Pro, AT Max, Minelab
Equinox 800
Primary Interest:

Metal Detecting
A few months ago, I found this...
Inscribed with a WW2 Veterans name, and military ID number.
Research shows he had no kids, died in 1982.
Had 2 brothers, youngest still lives in the town next to me.
I know he wasn't sure about the guy knocking on his door, but when I started telling the story of how I found this bracelet with his Uncle Hoye's ' name on it, suddenly he opened up with details of his late Uncles life.
I'll spare y'all the details of the Vet, let's just say he was fondly remembered, and not forgotten at all.
When I told the old timer that the bracelet belongs to his family, and all I wanted was a handshake and lead us into prayer, his response was classic...,
"Son, I don't cry, but if I did, I would"
He almost got me, ain't gonna lie.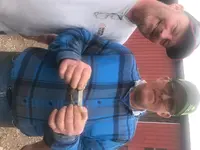 cell phone pics
So after that, I got the permission for his 100+ year old homestead, a knee-high grass and iron mess, but I squeezed out two wheats, so that's good.
Thanks for looking, and may your returns be gratifying.