Jun 17, 2014
211
253
Detector(s) used

Elena. She is a Bounty Hunter Quick Draw II.
Primary Interest:

Other
Measures 3.25 inches long, 2 inches wide at the top and 1 at the bottom. Has a small prong on the bottom and a screw type pin in the back.
I'm stumped as to what it is. You tell me.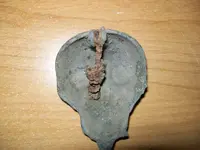 See this thread for a little more info:
http://www.treasurenet.com/forums/today-s-finds/660974-jesus-buick-happy-halloween-date-medal.html