Jun 30, 2014
253
448
Detector(s) used

Garrett AT PRO x2 XP DEUS!
Primary Interest:

All Treasure Hunting
Ok I started off in the morning taking my Cora with me to look for campsites and bottles along an old railroad bed owned by a friend of mine. Also searched through the farm dumps on the property as well, Cora was very excited when she saw an old loader amongst the iron and wanted to drive it.
We didn't find much more so we headed up to an old foundation in the field and that's when I found my first store token.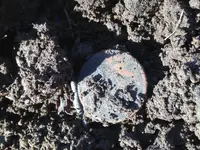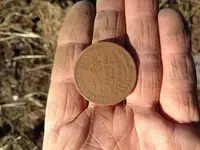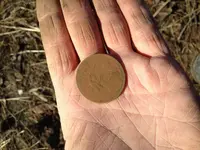 Then about two feet away this pretty little crotal bell popped out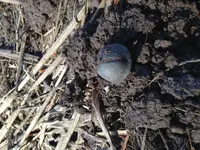 With that the finds about dried up other than a small sash buckle? Fork, drawer pull and tons of trash. Fellow t-net member Lonewolf met up with me and we headed to one of the sites that has been very good to me. A 1860's house foundation in a field. The finds were coming slow at first and we were digging iron and such when I got a weird signal on the deus, one that reminds you that the weird half repeatable signal is probably the roof nail head in a mist of more iron.
When this popped out of the ground, I shouted HOLY S**t! , I looked at lonewolf and said get over here! As soon as he saw it more profane words were expressed by both of us for a few minutes and I just stared at it then both of us started texting people pictures.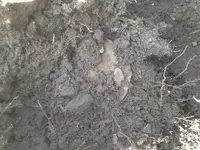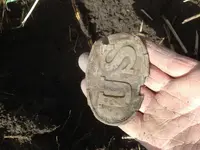 After that I switched programs and dug a few more relics but I was ready for a celebration beer and to call it a day. I still can't believe I found it, it just goes to show you never know what's under your feet.
Thanks for reading I know it's a long post!
Kyle-