Aug 16, 2021
1
3
Detector(s) used

Garrett AT Pro
Primary Interest:

All Treasure Hunting
I know just about nothing about buttons other than I found one.
The button is 1 inch in diameter (24mm)
It has a non-ferrous front and steel back.
The button looks Royal Navy? (the crown at the top) of a fouled anchor.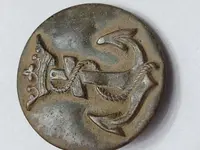 There are no marking visible and the shank is all but gone
Can someone help identify this for me, and an approximate dating?
Thanks, first time on the form. Let's see if I can get the pictures to post.