Dec 12, 2014
107
180
Primary Interest:

Relic Hunting
Been a long time lurker....and finally joined yesterday. We had a rare rainy day here in AZ, so was sorting thru some recent finds before I get stuff mixed like I've done before.
I'm big into early Az history, especially involving military/Indian's but have been known to poke around remote mining camps too.
This is just a needle in my giant haystack of finds...stuff from very recently.
Anyways, this first pic is just a bin of various rimfire cartridges cases, mostly Henry and Spencer. Pretty much ALL from one area.
Next pic is some drops (unfired), a couple Henry's, a Spencer, a Benet primed 45 Colt, a Berdan primed 45 Colt, a few Sharps, but best of all a 45 Schofield, with a Frankford Arsenal 9-84 headstamp....these ALL came from one area also (not the same as above), with a lot more not pictured/sorted.
Then comes a couple things from 2 different mining camps not far from me.........one is a watch fob from a Ky whiskey company (Bonnie & co.) that dates to 1873-1879 or so. And the other...WHO has an idea

A skull and crossbones seems like a strange watch fob for that area/time....yet it appears sized correctly and designed as one, and was found just a short distance from the other. Thought maybe it had something to do with explosives/powder kegs, but can't find any info about it.
Last but not least...the mysterious PHOENIX BUTTON, it was found a few miles from where the fob's were found, near a place I located a small camp that produced some lead round ball, percussion caps, and a Henry casing.
Anyways...just some recent finds and ramblings to share.....and I know, I need to clean the finds up, but I like to leave them in a natural state....the fob's and button are in really excellent condition, much better than the pic's represent!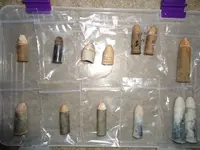 Last edited: