Feb 26, 2020
44
120
Detector(s) used

Garrett AT Pro
Primary Interest:

All Treasure Hunting
Hi there everybody, been awhile since I?ve posted. And I have a bunch of finds I need to identify. And have always been blown away from the knowledge of this community. All these finds are from the same abandoned village. It was a bustling community when it was the main road between towns from 1800-1930. Once the highway was built it essentially cut off the town. That and the failed farms because of the rocky ledge not far under the soil. Spelled the end for this once populated village. There are some stone foundations left from 7 of the houses and a barn. But many were built without a cellar. Because of the ledge looming a foot down in places. 2 of these buildings without foundations I?m trying to locate now. One was the town schoolhouse and the other a store with a dancehall on the second floor. Here are the latest finds from this large area.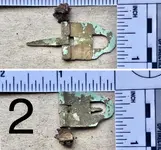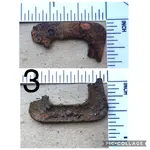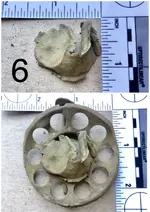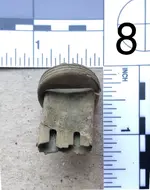 Not sure if this info will help or needed but here you are.
#1 was found in the area of a woman house. It?s very thin, I think I caused the hole in the middle from brushing it. I don?t think it was there before cleaning. But there is a chance it just had dirt filling it.
#2 and #3 were in the same hole. Don?t care about #3 but thought it might help with #2
#5,#6,#8 were all in the same hole. I pretty sure they are parts of lanterns but would love any additional info if possible.
#7 and #10 were on the same lot.
#9 was found semi close to #5,#6,#8 but really deep at least a foot down. The back seems to have 4 bumps, 2 on each end. Maybe belt buckle?
I really would love any and all info that can be provided. I found this Morse Buckle shield there and after searching on here I found an absolutely incredible reply from canonballGuy.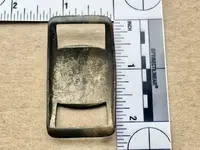 He went on to not only identify it but provide original patent papers and an advertisement for it. I know that?s not going to be the norm. But it was so amazing. I?m creating a journal with all my finds and info like that is invaluable.
Especially since I have become part of the local historical society and they are all very interested in finding out more about this lost town. I?ve searched over so many history books and newspaper archives. And this place is never mentioned. If it wasn?t for the old topo maps and stone foundations there. You wouldn?t know it even existed.
Thank you so much in advance for you consideration and time.