Apr 20, 2018
1,490
6,701
🏆 Honorable Mentions:
Detector(s) used

Fisher CZ-21, Minelab Excalibur,Garret AT Pro,
Primary Interest:

All Treasure Hunting
I have been doing a lot of digging as usual, but silver has eluded me recently. So I took time off to shop with my wife and buy Christmas present for the family and I get silver in my change. I recognized the war nickel as soon as it was handed to me. I mentioned the silver coin to the clerk and he had no clue. The next day when we went to the food court for lunch I got the 1951 Canadian penny in my change. The other coins are from the parking lot and just walking around the mall. Treasure is where you find it and sometimes that is in an unexpected place.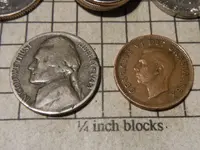 All 3 of my recent trips were 5 hours of swingin the CZ21 and gridding and digging all mid and high tone targets. I made 2 trips to the middle school with decent coin results but nothing special just one curious item. On trip one I found 121 coins with a face value of $8.44, a silver plate fork, a car key, a poker chip, 2 wheaties (1910 and 1941), a frozen charm, a gas cap key, tabs and cans and junk oh my.
The poker chip is unusual. It says WILL STRIP FOR CHIPS $100 A. EAGLE 1977. I tried to look it up but found nothing about it. If anyone has a clue what this is about, please let me know. The plating on the fork is coming off and I can't read the maker, so no idea of the age.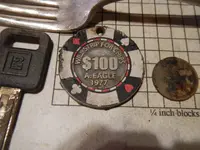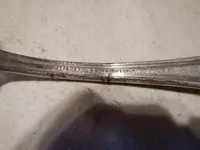 The second trip to the school yielded 117 coins with a face value of $7.88, a key, some cheapie jewelry, a 1946 wheatie, a ball button, a pile tabs, and some junk.
Some of the zinc pennies are really eaten up. Not even recyclable darn it. The ball button is similar to the one I found a while back. The backmark on this one reads WATERBURY COMPANIES INC. I believe this one is a modern one like the last one.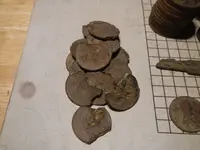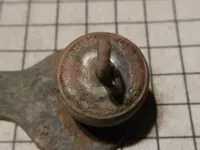 I also took a trip to the festival grounds and found 96 coins with a face value of $6.07, a 1944 wheatie, a smashed penny, a small cheapie padlock, tabs and can slaw.
The area I detected was right beside a heavily used railroad track. One of the festival campers probably put a penny on the tracks and then lost it in the dirt parking area I was detecting.
So I had to go shopping to get my silver. The old guy is still out there swingin in the fresh (cold) air and digging lots of ifies and clad. Thanks for looking. Hopeful next time there will be some dirty silver to look at. Stay safe, good luck and may your coil lead you to good things.