Jan 31, 2012
3,964
8,889
🏆 Honorable Mentions:
Detector(s) used

Garrett AT Pro (Julio), Garrett AT Max (Medusa), Garrett Pro Pointer, White's Prism V, Lesche Digger.
Primary Interest:

All Treasure Hunting
I dug a pocket spill of rare "King Bubba of the Ozarks" hammered coins today! Actually two locomotive-squished nickles and a "Rat Regurgitation Palace" coin, AKA Chuck E. Cheese token.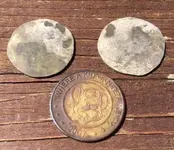 Being Sunday, I had to pull a silver ring out of the ground to validate my very existence. I was fortunate enough to find a nice "Pray Hard" .925 silver band, a pretty copper band, and an interesting child's bling ring.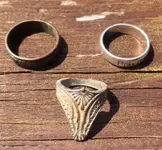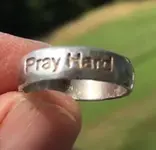 Also dredged over $10.00 in clad for my favorite charity, Childrens Miracle Network. All schoolyard finds.
Cheers, Thanks for looking, and Happy Hunting to my all of my TNet friends. Whew...its hot out there.... Sub