Super Moderator
Staff member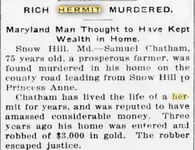 a Stumper

if he was Murdered, How did they know he was Robbed of
"$3000.00 in Gold"
Did the Reporter or person who Found him, Rob Him ?
or is it because they knew he had it & Couldn't find it ?
Hence, The Speculation.
What If it was still there somewhere & The Robbers got nothin' ?
other possibility, he was Robbed 3 Years Before he was murdered ?
Last edited: