Jun 9, 2006
1,857
220
Detector(s) used

ace 250
Primary Interest:

All Treasure Hunting
Riverside Chinatown dig planned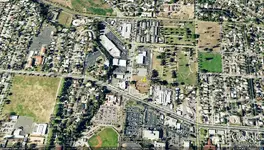 A plan to guide the excavation of the site of Riverside's second Chinatown won unanimous approval from the City Council on Tuesday. The council upheld a vote of the Cultural Heritage Board, rejecting four separate appeals filed by opponents of a medical office building that Riverside developer Doug Jacobs plans to build on the site at the northwest corner of Tequesquite and Brockton avenues.
Jacobs must pay for the excavation and preservation of the materials deemed worth keeping.
The 4.2-acre site is listed on the National Register of Historic Places, as a city and county landmark, and as a state point of historical interest.
Project opponents argued in their written appeals that the archaeological treatment plan does not require appropriately trained personnel and could lead to valuable materials being discarded.
"What I object to is having an archaeological excavation of any kind," said Jean Wong, who filed one of the appeals on behalf of the Save Our Chinatown Committee,.
Her group, which is suing the city over the council's approval of the medical office building project, wants a memorial park built on the site.
City officials said archaeological professionals will oversee the excavation and the intent is to save and catalog everything of value.
An outside archaeologist retained by the city, Peter Schulz, who is an expert in overseas Chinese sites, told the council the archaeological treatment plan is "completely professional" in his view.
Planning Director Ken Gutierrez said a separate plan will be coming to the council for displaying excavated materials and telling the story of the Chinatown.
Riverside's first Chinatown was downtown but had to move in the face of anti-immigrant sentiment. The second Chinatown existed from the late 1800s to the 1930s and was home for some of that time to hundreds of residents. Many came initially to work in the citrus industry.
A dig at the site in the mid-1980s uncovered hundreds of artifacts the city now has in storage and an exploratory dig in 2007 turned up part of a building foundation but little else.
Councilman William "Rusty" Bailey said the city listened to the community and made changes to the archaeological treatment plan as first proposed to ensure that all valuable materials found on the site will be properly preserved.
For example, the city will hire an archaeologist -- at Jacobs' expense -- to review the materials independently for cataloging.
Councilman Mike Gardner, whose ward includes the site, said he didn't see what more the archaeological treatment plan could do.
"I think it does save all the good stuff," he said.
Reach Doug Haberman at 951-368-9644 or
dhaberman@PE.com
Maybe we should " scan " this place first.... no

PLL