With schools back in session and most family vacations over for the season, I decided it would be perfect time to hit one of my favorite beaches in semi-solitude. When I arrived, I discovered two other detectorists working the area I had in mind. (Next time I will either beat them with a shovel, or get there earlier...and I'm not known for my punctuality...) Rather than follow behind or try to work between them, I went to an area that is not as popular with the beachgoers, but has still produced a few good items for me in the past. In all, I got in just under three hours of hunting before the tide started rolling back in. Below is a pic of all of my finds, minus the trash.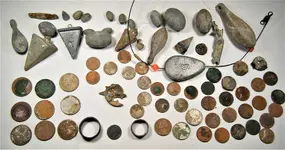 My first jewelry find was a momentary heart-stopper, until I looked at the back of the pendant and discovered it was only gold-plated copper. I cleaned it up a bit using my Andre's Pencils set just for the fun of practicing with them. (I didn't clean it up entirely, because it stopped being fun.)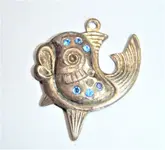 I did, however, find two silver rings, which were very tarnished by their time in the saltwater. The one on the left below is a counterfeit Louis Vuitton, as evidenced by the mediocre craftsmanship, including the glaring resizing cut and solder. Once cleaned, I had to use a jeweler's loupe to read the markings inside the band, which read "MEX 925". It did test as above 90% silver, though, and weighed in at 8.6 grams. The ring on the right was marked "MSK Sterling" and weighed 6 grams. I have no idea who the maker is, so feel free to chime in on that if you're so inclined. I did also find one silver coin - a 1952 USA dime, the detail of which was horribly corroded and pitted by the saltwater. (But hey, it's still more silver!) As always, thanks for taking the time to look!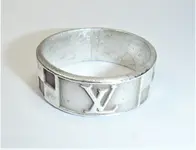 I also found a 1942 wheat penny, but I put that information down here, because if you're still taking time to read this post instead of looking at the amazing relics and coins that everyone else is posting, you kinda deserve it. :-)