Gold Member

Aug 24, 2017
16,404
28,762
🥇 Banner finds
🏆 Honorable Mentions:
Detector(s) used

Minelab CTX 3030; Minelab Equinox 800;
XP Deus 2
Primary Interest:

All Treasure Hunting
Took off on a hunt with Jimmy D. After Church. We hunted and hunted and hunted and couldn't even find a Wheat🤔
After 4 yards, I told him let's leave this block. Drove to another and stopped at a 30's larger home with a big yard.
I started on the far side away from the house and he started by the sidewalk. We always work back and forth headed towards each other. He comes over after about 3 minutes and found a Sweet Silver ring. Then another 3 minutes and he finds another😳 By this time Im like, I think I started on the wrong side. Another 5 minutes and I got a solid 32 on the Nox , and out pops a Cool Silver Ring with a cross on it! Yes!!! We didn't get skunked! Then he tops it off finding a wedding set and a Silver earring.
Wonder if kids lost them or some one threw them out. That's a lot of jewelry for one big yard. Just before We ended I found a dateless Buffalo. We had a very good day, even though it seemed like at the start We we're gonna get skunked.
Silver#6fty! Thanks for looking and
Happy Hunting!!!!
Forgot to take a pic with the Buff, so I took two that's why. It was in My fly container. The rings on the bottom pic is what Jimmy scored today. Lucky Dog!!!
Jimmy's Score!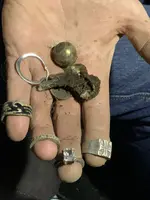 Cleaned up
Last edited: