Sep 5, 2016
4,182
8,264
🥇 Banner finds
🏆 Honorable Mentions:
Detector(s) used

XP DEUS
Primary Interest:

Relic Hunting
Had a very nice week end hunt. Hit a few fields with some good results managing to not only break my 18 months Spanish silver drought but find one of my bucket lister coppers. George the first was on the list for a while and I almost gave up on finding one as my areas for some reason never produce coppers from that period (or they are too beat to ID) Got an invitation from a friend of mine on a new permission and within an hour had the coin in the finds pouch. On top of it, its condition isn't bad at all for a 300 years old copper.
George I Halfpenny 1723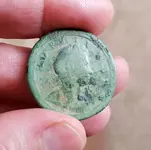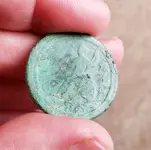 Also found a few other nice coppers.
George II Halfpenny 1749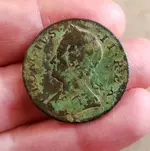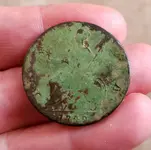 Spread Eagle Halfpenny 1815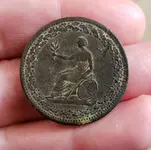 And
Sir Isaac Brock Halfpenny 1816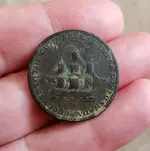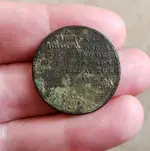 After getting back to my permissions decided to hit a field that had,in my view, some great potential but only previously produced the coins and relics form Victorian era (mid to late 1800's). Finally manged to find a spot on a huge field where an older house was located. After removing some Victorian junk started finding coins and relics fro Georgian era. Pretty soon, got a strong silver signal on my Deus and pulled a bit worn 1 Real coin.
1 Real 1797 - Carolus IV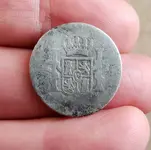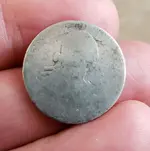 A few copper coins.
Connecticut copper 1785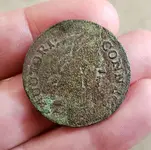 Draped Bust cent 1802
Trade and Navigation Halfpenny 1813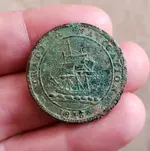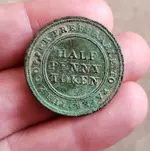 And my first
Victoria Penny 1884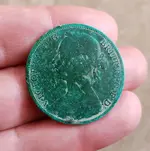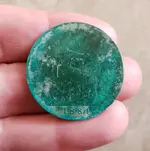 Found a few good relics as well.
Revolutionary War 67th and 60th Regiment of foot buttons.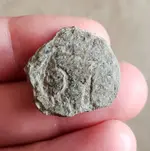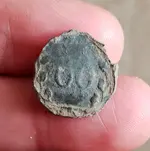 And what looks like a lead seal.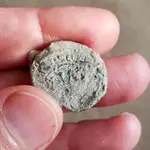 A busy but productive week end, just the way I like them.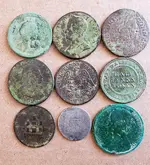 Thanks for the comments.